Download the Entire PowerPoint Presentation
You will be directed to a printable PDF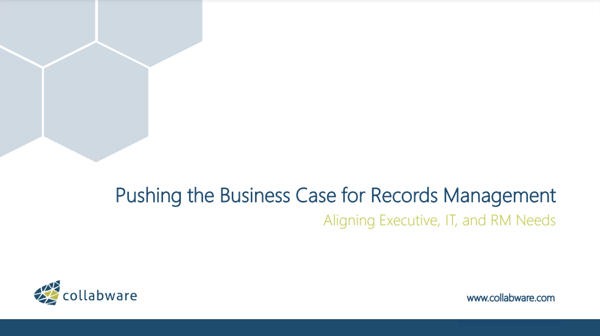 Complete the form to access the entire presentation on how to Push the Business Case for Records Management, and aligning needs across departments.
This session will walk through the current needs of Executives, Legal, IT, and RM, and will show how to build a business case for a program that aligns all parties on achieving a mutually beneficial outcome. The session will address strategic and practical needs of each party, as well as the cultural needs of the employees who will be affected. Understanding the KPIs of each group will open channels for improved communication and identify common goals that can be streamlined with better collaboration. Whether you work in a small corporation, or a large government body, this session will help you to build a better business case that resonates with all parties.
This info session will cover:
Current goals and KPIs of Executive, IT, Legal and Records departments; sharing legal & Regulatory mandates for each.

Respective risks and budget considerations, with resources to back up your research.

Identifying a cohesive solution that addresses collective needs and how to present your business case.
Want more support? We've got a team of information governance experts at the ready! Please reach out to us for more info and a personalized demo.