Connect, Protect, Discover
Reveal all your dark data and make it searchable with
Collabspace
Stream all your content repositories into a Data Lake archive for comprehensive visibility and accurate eDiscovery. Collabspace archives and protects your data, and provides the tools needed to harness it for business transformation.

With Collabspace, reduce the time and cost of FOIA, ATIP & GDPR Processes, simplify search and eliminate data silos.
And set up is so easy, you can do it yourself!



"A request for Safety Compliance and Training documents used to involve two departments and three platforms. Cobb now has a single search point and can get comprehensive results in minutes."

Nick Robinson,

Enterprise RM Architect, Cobb EMC
A Future-Proof System:
Flexible and Scalable Cloud Service for unstructured data intelligence
Connect Microsoft 365 content sources: SharePoint, OneDrive, Microsoft Teams, and
Microsoft Exchange (Outlook Emails).
Eliminate error and save time as files no longer need to be manually filed or tagged.
Accessible on any device, anywhere in the world.
VIDEO: How to Connect & Search

Search & Export:
All content is automatically classified and indexed for keyword and metadata search.
OCR & transcription applied to all Images, PDF and audio/video for indexing.
Process FOIA, ATIP & GDPR requests quickly using cross-system search into 1 results view with quick export functionality.
Will search any file format and even text with images and transcribed audio
VIDEO: Cross-Platform Search
Archive & Restore:
All emails, files and versions are automatically backed up for instant recovery

Secure, encrypted, WORM-Compliant Storage with Microsoft Azure

Connect and Archive Content from Multiple Repositories

Distributed across multiple jurisdictional data centers to adhere to regional data sovereignty requirements

Geo-replication for operational continuity

 

VIDEO

: See how to Restore Deleted Content
---
Bring Calm to Information Chaos & Start Collabspace Now!
Watch this video for a quick overview of the eDiscovery Highlights!
Collabspace Pricing
It's your choice and we've made it easy including no-contract, pay-as-you-go pricing.
Collabspace is billed in monthly compute segments. For example:
1 Compute Segment = 1 TB of Document Data
(~ 5 million emails with attachments), or 1 million physical objects.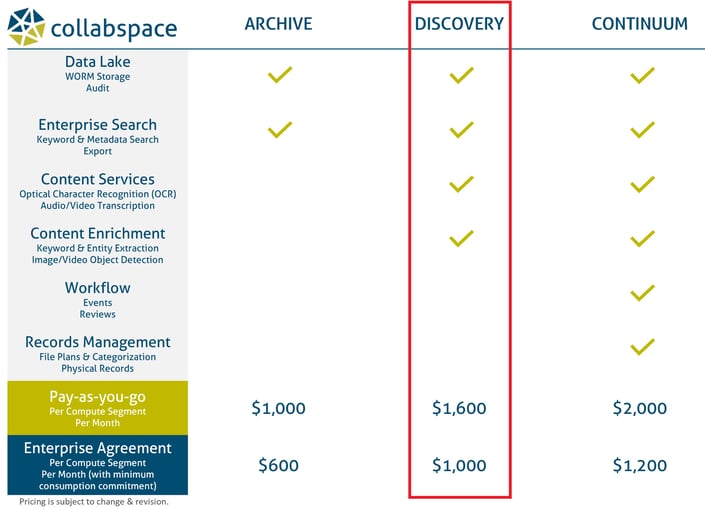 ---

Enroll Now to Get Started with
Your Collabspace Self-Service Plan!
Once you enroll, we will send you all the info you need to get started with Collabspace, including:
Full Product Features & Info
Tech Specifications
Licensing Guide

Security & Privacy Details

Competitor Comparison Chart

Quick tutorial videos on:

Setup

Effective search tips,

Recovering lost files & more.