Records Management Software Comparison
Microsoft 365 + Collabspace
Got Microsoft 365 and need Records Compliance automation?
Use Collabspace to cover the M365 gaps and ensure your organization's end-to-end compliance, archive and eDiscovery needs.
Microsoft 365 Enterprise (also known as Office 365) comes in levels E3 and E5. Both enterprise levels offer a solid foundation for basic retention and categorization needs. However, most organizations have regulations and mandates that require evolved security, content discovery, recovery and disposition features.
We compare costs and key features of Microsoft 365 levels E3/G3 and E5/G5* along with our cloud-based solution, Collabspace, to show the enhancements and process improvements this add-on solution brings to any Microsoft 365 level for a complete and fully regulatory-compliant RM system. Collabspace can stand alone as your complete compliance solution or can integrate with your existing M365 environment.
Spoiler alert: both are great tools but M365 works better when together with Collabspace.
Fill out the form to access the free comparison chart.

Collabspace Pricing
Built to Grow with your Organization
Quickly rollout cloud apps based on what you need. Scale when you're ready.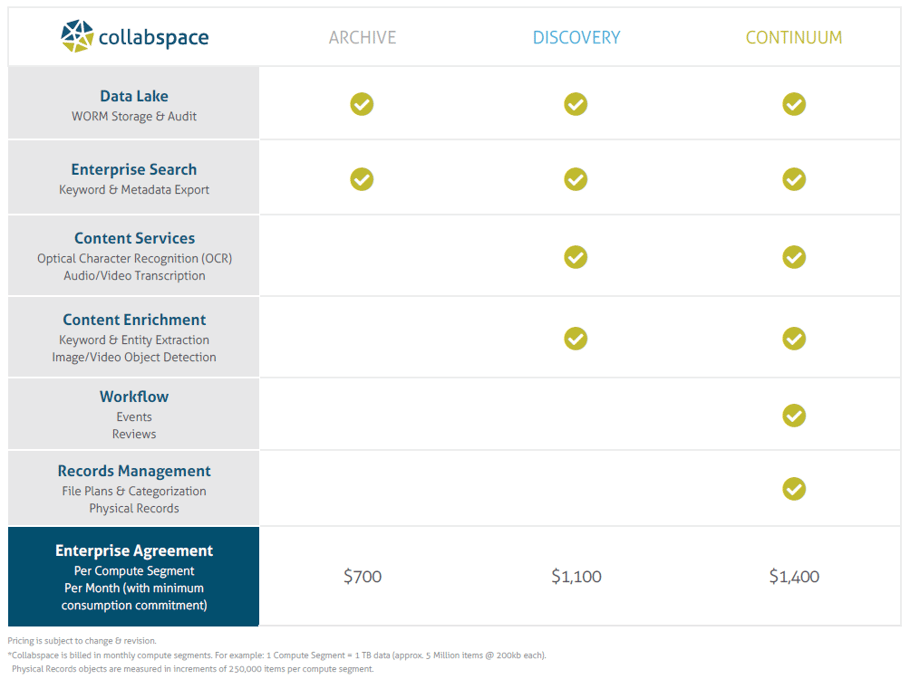 *Collabspace is billed in monthly compute segments. For example: 1 Compute Segment = 1 TB data (approx. 5 Million items @ 200kb each). Physical objects are measured in increments of a million.
Volume discounts available for organizations with over 6TB of data on an enterprise agreement.